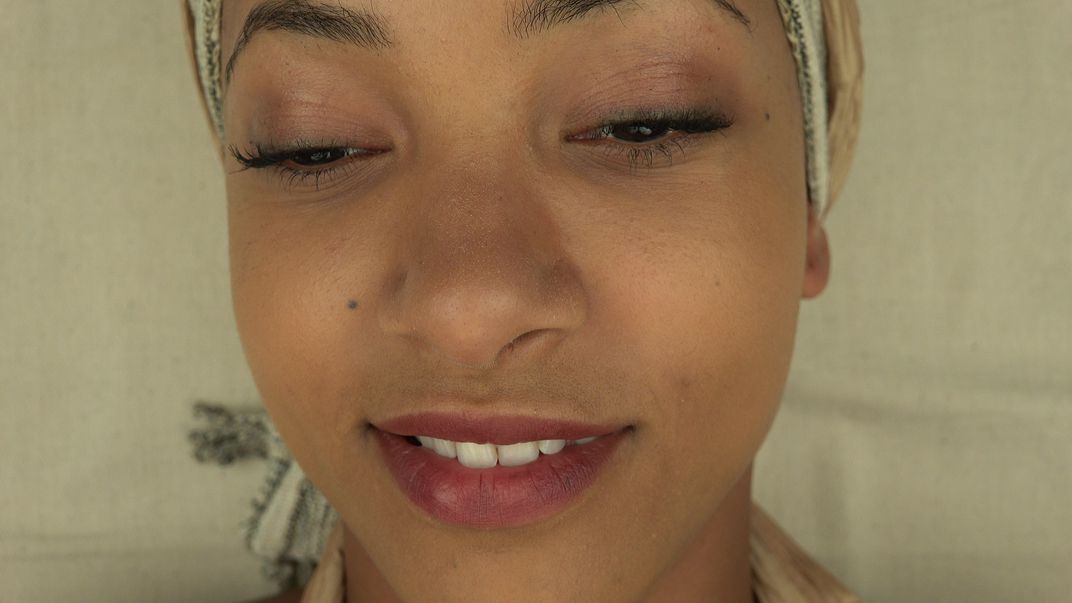 Esperanza Spalding
by Bo Gehring
Single-channel video (color, sound), 2014
Bo Gehring's portraits are a visual and aural record of his subjects, who are seen lying flat and responding to a musical work of their own selection while a camera moves slowly overhead. The computer-controlled camera's motion is synchronized exactly to the subject's height and the duration of the music. Unlike Gehring's previous portraits, the sitter here is a celebrity: the record-breaking bassist, composer, and singer Esperanza Spalding. Spalding won the Grammy Award for Best New Artist of 2011, a first for a jazz musician.
For her portrait's musical component, Spalding chose "Tarde" (1974) by Wayne Shorter—an artist who greatly influenced Spalding—which includes Shorter on the tenor saxophone and Herbie Hancock on the electric piano. As the camera scans Spalding's body, we see the shimmer and textures of her carefully selected clothing and jewelry, and at the end, a face enraptured by the music—a rare glimpse of a star enjoying a private moment.
National Portrait Gallery, Smithsonian Institution; acquired through the Marc Pachter Commissioning Fund as part of the first prize, Outwin Boochever Portrait Competition 2013.